Hawaii Road Map
---
The scalable Hawaii map on this page shows the state's major roads and highways as well as its counties and cities, including Honolulu, Hawaii's state capital and most populous city.
Road in the Nu'uani Pali State Park, Oahu, Hawaii
Hawaii Map Navigation
To display the map in full-screen mode, click or touch the full screen button. To zoom in on the Hawaii state road map, click or touch the plus (+) button; to zoom out, click or touch the minus (-) button. To scroll or pan the zoomed-in map, either (1) use the scroll bars or (2) simply swipe or drag the map in any direction. (The scrolling or panning method you use will depend on your device and browser capabilities.) At any time, you can display the entire Hawaii road map in a new window or print this page, including the visible portion of the map.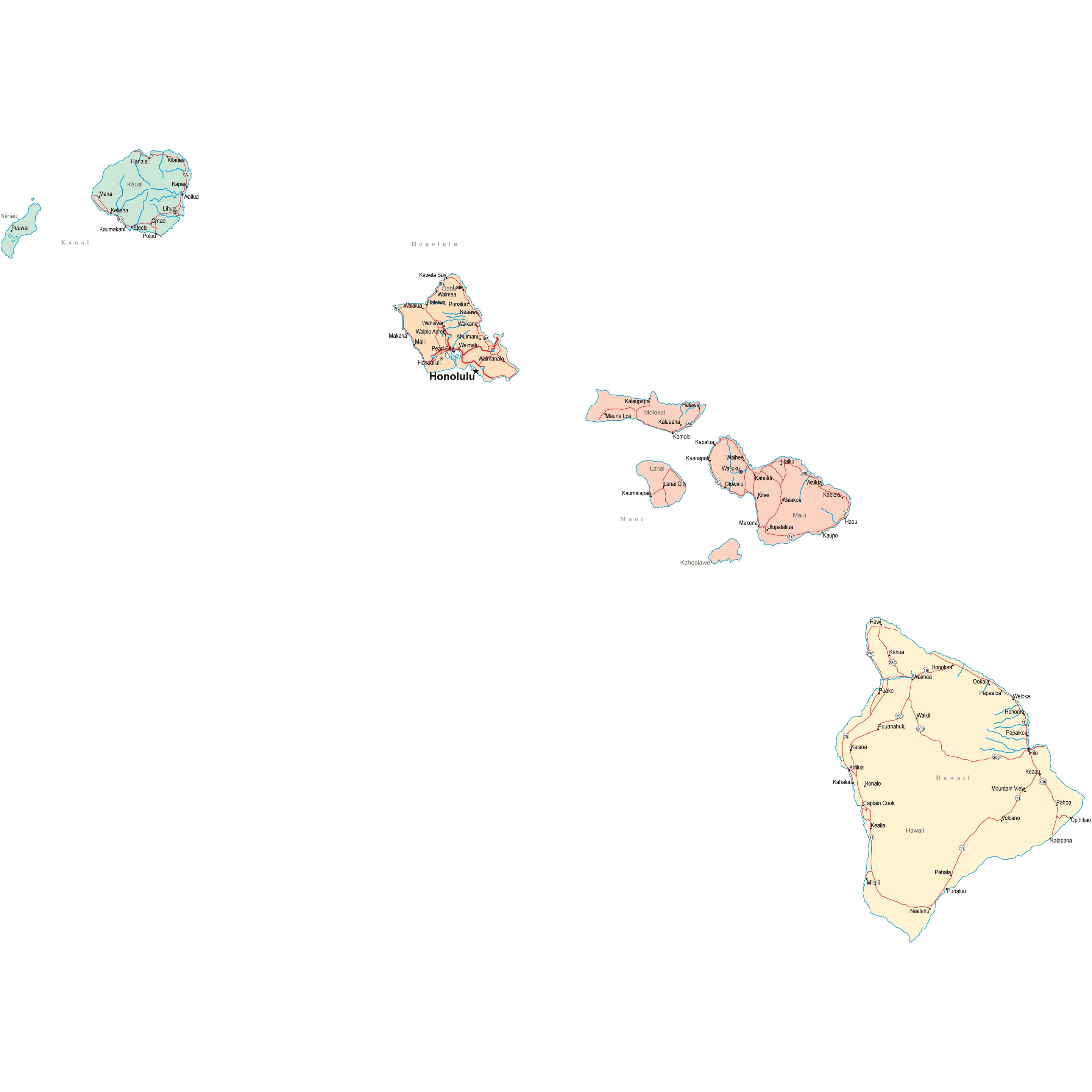 The following Map Legend and Scale of Miles apply to the road map on this page, at its largest displayed scale.
Hawaii Map Legend
Hawaii Map Scale Of Miles
Hawaii Interstate Highways
Hawaii's Interstate highways, located on the island of Oahu, do not connect with other states, but they are built to federal Interstate Highway System standards. H-1 crosses southern Oahu, from east to west, passing through Honolulu and the Pearl Harbor area. H-2 connects H-1 with Wheeler Army Airfield and Schofield Barracks in Wahiawa. H-3 connects H-1 with Marine Corps Base Hawaii.
Hawaii Scenic Routes
There are certainly many beautiful roads on the islands of Hawaii, but the Aloha Loop is one of the most scenic drives around the Big Island. This 225-mile loop travels around the perimeter of the island, passing through the botanical city of Hilo and several state parks, as well past the 13,796-foot tall dormant volcano Mauna Kea. Visitors can also take part in snorkeling at some of the gorgeous beaches, and view ancient boulder markings of turtles, fish, and warriors at the Puako Petroglyphs. More information about scenic roads in Hawaii is available on this Hawaii Scenic Byways site.
Hawaii Road Travel Resources
For more information about Hawaii's roads and transportation infrastructure, visit the Hawaii Department of Transportation website. For Hawaii road traffic conditions, visit the Federal Highway Administration's Hawaii Traffic Information page.
---
Copyright © 2005-2022 State-Maps.org. All rights reserved.
Hawaii-Map.org is a State Maps reference source.

Hawaii Road Map
Hawaii Travel Map - HI Highway Map